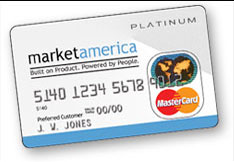 Card Benefits

Are you tired of the long wait times associated with trying to manage your credit cards on the phone? Are you tired of customer service representatives that seem as if they could care less? Would you like to stop being treated like a number instead of a name?

You're not alone.

Market America is very proud and excited to announce that it has teamed up with Barclays Bank to provide to its Distributors a very special credit card. A credit card with extremely high standards of customer service. A credit card that allows easy management of your account online, any time, day or night. A card that actually pays IBV for each purchase you make, regardless of its size.

You heard right. The Market America Platinum Card is the only card in the world designed specifically for Market America Distributors and their families. Now, when you pay for goods and services, you'll not only enjoy competitive interest rates, but you'll also earn 1% IBV on every purchase!

Imagine earning IBV by simply filling up your gas tank. Or when going out to dinner. Going on vacation. Even purchasing Market America products and services. No matter what you buy, when you buy it, or where you buy it, using the Market America Platinum Card will earn you 1% IBV. It's that simple!

Other benefits include:
24/7 Online Account Management
Competitive Interest Rates
Additional Cards For Your Family
Don't waste time with any other credit card! As a Market America Distributor, you are one of the only people who can take advantage of this incredible offer. Simply click on the "Apply Online" button on this page, complete the information, you'll have your results in minutes.