Get paid commissions for doing the things you need to do to run your business such as: paying Annual Fees, Transfer Buys, product purchases, training, meetings/conventions tickets, hotels, car rentals. Plus, earn commissions everywhere else you shop — your favorite restaurants, gas, grocery stores, etc...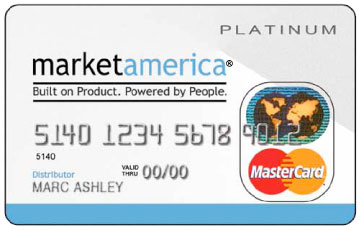 Get up to 75 IBV when you open an account and make your first purchase2
Earn 1 percent IBV on all purchases when you use your Market America Platinum MasterCard2

1Offer subject to credit approval. If at the time of your application you do not meet the credit criteria previously established for this offer, or the income you report is insufficient based on your current obligations, we may not be able to open an account for you.

2Rewards under the program are earned on purchases made with your Market America Platinum MasterCard. The following transactions are excluded from "Purchases" and do not earn rewards: convenience checks, cash advances and credit card bills. Rewards are also not earned on returns made to your Account. Your Account must be in good standing to receive rewards offered under this program. Good standing means that you are not in default under the cardmember agreement.

Barclays Bank Delaware ("Barclaycard") will request that Market America award Incentive Business Volume (IBV) equal to 1% for all purchases made on a cardmember's Market America Platinum MasterCard provided the account is open and current at the time of purchase. After using your card to make an initial purchase, you will be eligible to receive a one-time bonus award of up to seventy-five (75) Points. Bonus Points will be posted at the close of your first billing statement after an initial qualifying purchase is made. IBV will be administered in accordance with Market America's policies and procedures. Barclaycard and Market America reserve the right to suspend, modify, cancel or terminate the program in whole or in part, at any time for any reason.